COMPANY
Company Information
We continuously pursue
the highest performance and reliability,
to create more advanced technology.
These are the little forms that we create.
Each carefully-made component functions as the heart of advanced technology.
We carry on supporting society and the world, and creating new futures,
by continuously delivering the highest satisfaction.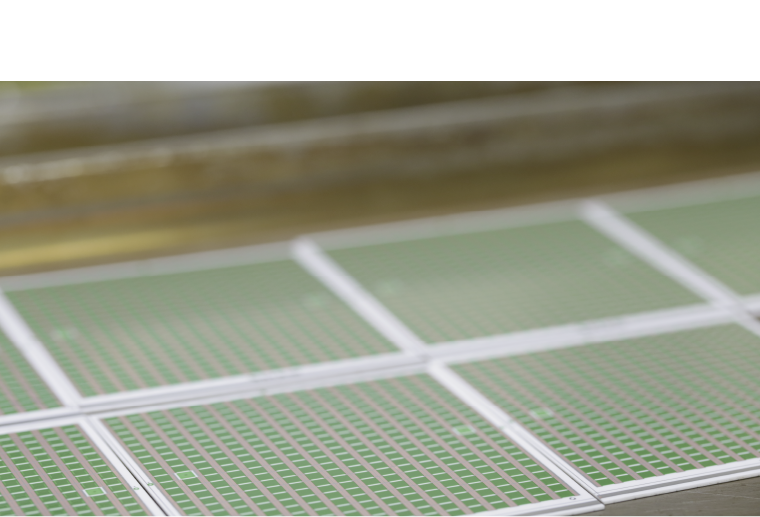 Philosophy
With outstanding quality, we always provide our customers around the world with the highest satisfaction, and we keep on getting better.
Company Profile
Trade name
Flat Electronics Co., Ltd.
Representative
Chairman and CEO Yukiho Aikyo
President and CEO Eiji Hayami
Founded
09.1967
Nominal capital
JPY50 million
Banking relationships
Kiraboshi Bank,
MUFG Bank,
Haneda branch
Headquarters and factory
3-1-27 Nakatakita, Izumi-ku, Yokohama,
Kanagawa, 245-0012, Japan
Tel:+81-45-802-9460
Fax:+81-45-804-0924
Total floor area: 641㎡
Main products
Development, manufacturing, and sale of thin metallic film resistors and electronic devices
- Thin film chip resistors
- Thin film chip resistor networks
- SIP type thin film resistor networks
- Radial leads thin film resistors
Electrical Equipment Department
4-65-18 Nakatahigashi, Izumi-ku,
Yokohama, Kanagawa, 245-0013, Japan
Tel:+81-45-801-4462
Fax:+81-45-801-0204
Total floor area: 651㎡
Main products
Manufacturing and sale of electrical equipment
- Solenoid valves for vehicles
- Switches for vehicles
- Fuel injection pump components
- Actuators
Company History
04.1966
Began researching metallic film resistors
04.1967
Succeeded in commercializing such resistors
09.1967
Established Flat Electronics Co., Ltd. in Ota ward, Tokyo, with
JPY500,000 of nominal capital
Seiji Nishigaya became president-director
07.1970
Built a factory in Izumi-ku (formerly Totsuka-ku), Yokohama
12.1971
Capital increase to JPY2 million nominal capital
03.1973
Takashi Ota became president-director
Relocated headquarters to Izumi-ku, Yokohama
04.1973
Capital increase to JPY10 million nominal capital
09.1984
Installed laser trimming equipment
02.1985
Developed square plate-type chip resistors
07.1987
Developed surface-mounted network resistors
07.1989
Installed sputtering equipment
Installed an etching system
01.1994
Started mass production of electrical equipment for cars (Electrical Equipment Department)
02.1996
Installed automated inspection taping equipment for chip resistors
03.1997
Developed solenoid valves for brake control (Electrical Equipment Department)
05.1997
Installed a laser marking system
06.1997
Installed laser scribe equipment
01.1999
Developed Thin Film Chip Resistors Networks
12.1999
Electrical Equipment Department acquired ISO9002 certification
05.2000
Installed super-high-performance laser trimming equipment
Developed solenoid valves for injection control (Electrical Equipment Department)
10.2000
Developed large solenoid valves for vehicles (Electrical Equipment Department)
02.2002
Tomohisa Ota became president-director
04.2004
Electronics Department acquired ISO9001 certification
01.2006
Headquarters factory won an award as an excellent factory of Kanagawa Prefecture
04.2006
Finished making all resistors lead-free
04.2007
Electronics Department acquired ISO14001 certification
08.2010
Installed non-contact exposure equipment
05.2011
Designated as a Kanagawa SME model factory
02.2018
Electronics Department registered for ISO9001/14001:2015
Electrical Equipment Department registered for ISO9001:2015
07.2019
Yukiho Aikyo became President and CEO
12.2019
Flat Electronics Co., Ltd. was merged into the holding company Flat Electronics Holdings Co., Ltd. Capital changed to JPY50 million nominal capital
02.2020
Yukiho Aikyo became Chairman and Executive Director Eiji Hayami became President and CEO
access
Headquarters and factory
3-1-27 Nakatakita, Izumi-ku, Yokohama,Kanagawa, 245-0012, Japan
Tel:+81-45-802-9460 Fax:+81-45-804-0924
By car
Approximately 2.6 km towards Chogo from Yazawa Overpass on National Route 1.
Approximately 2.6 km towards JR Totsuka Station from Izumi Sakaue intersection on Yokohama
Ring Road 4.
By train
Change at JR Totsuka Station or at Shonandai Station on the Odakyu Line, and take the Yokohama Municipal Subway Blue Line to Nakada Station, then walk 7 minutes from Exit 4.
Electrical Equipment Department
4-65-18 Nakatahigashi, Izumi-ku,Yokohama, Kanagawa, 245-0013, Japan
Tel:+81-45-801-4462 Fax : +81-45-801-0204
Handling Substances of Concern
Our products are lead-free and compliant with the RoHS Directive and REACH regulations.
Policy on Conflict Minerals
We are working towards prohibition of the use of 3TG (tin, tantalum, tungsten, gold) mineral resources extracted from conflict zones, such as African countries with humanitarian problems. We are actively working to cut off direct and indirect sources of funds to armed groups, and striving to stop human rights violations and environmental destruction.
ISO
We are working to raise product quality and protect the global environment.
Certificate name
Site
Certification acquisition date
Expiration date
Certification agency
Certificate No.
ISO9001
Electronics Department
04.2004
02.20.2022
SGS
JP09/061859
Electrical Equipment Department
02.2018
ISO14001
Electronics Department
04.2007
02.20.2022
SGS
JP10/070915